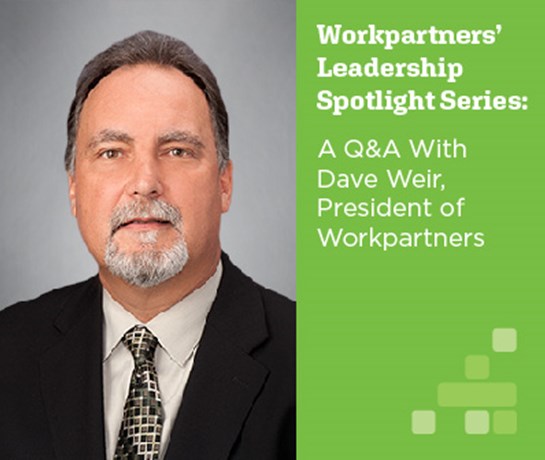 Company News
Workpartners' Leadership Spotlight Series: Dave Weir
Dave Weir has been the president of Workpartners® since 2003. He grew up in Pittsburgh when the steel industry was at its height and attended Indiana University when the Occupational Safety and Health Administration was formed in 1971. The creation of this government program inspired him to pursue a degree in the relatively new safety/health field, where he began his career working in heavy industry outside Bloomington, IN.
He moved to Nashville and worked in various safety, insurance, and risk management roles before returning to Pittsburgh in the mid-1980s to work on the construction of the new Allegheny County Airport.
As that project drew to a close, he moved inside an insurance brokerage firm to manage its workers' compensation division. This work led him to UPMC and, eventually, to his current position in Workpartners.
Q: Workpartners is celebrating its 25th anniversary this year. How was Workpartners' founded, and how has the company's approach evolved?
A: Initially, Workpartners was formed by consolidating the various occupational medicine programs of UPMC, which led to the integration of the many workers' compensation programs. As UPMC grew, Workpartners significantly expanded its services, bringing innovation and the integration of UPMC's many benefit programs. Then in the early 2000s, Workpartners became part of UPMC Insurance Services Division, where we integrated absence (FMLA, ADAAA), wellness, and EAP components into a very comprehensive employee offering for UPMC along with the ability to take our services to external clients.
Our first client was a comprehensive managed care program for the Pittsburgh Port Authority—followed by the University of Pittsburgh and the various local governments that formed the basis of our expanding external business.
The business continued to expand with now over 2,500 clients across the country. We now have over 600 employees across the United States serving UPMC, the many clients of our Insurance Services Division. We introduced our first licensed workers' comp insurer license in PA and have since expanded into Delaware, Maryland, and New Jersey. West Virginia will be added to our service area soon. We then expanded and strengthened our analytic capabilities by acquiring a Wyoming-based analytic company, HCMS, which gave us tremendous depth on integrating many of the traditional siloed data sets.
Q: You've worked in employee health, safety, and wellness since the industry began.
How have employers' strategies around employee benefits changed?
A: I have been doing this a long time, so there have been numerous changes. The most significant change has been with technology and accessibility to data/analytic trends. Having access to this data is now critical to driving company policy and programs and plays a vital role in managing the health-related cost.
We are so much more sophisticated in how we use data to create and define the whole person-centric view. Manicuring all of this traditionally siloed data for use is cumbersome and difficult, but we added depth to our already strong analytic team in 2017 by acquiring HCMS. This acquisition allowed us to integrate and make sense of data from multiple sources to be significantly more effective in managing populations. Our comprehensive data analytics abilities enable us to create a unique risk score for people who need more attention from health management support services.
The interesting thing is that most companies struggle with this because they don't have the data, or it is housed with different vendors. The challenge we have is bringing this integrated approach to companies and brokers who can't currently look at that data in silos, so going forward, part of our strategy will need to be education on the benefits of having this integrated data view.
Q: What strategies will companies need to employ to successfully navigate the new workplace realities brought by the coronavirus pandemic?
A: That's a great question and there is no recipe for this one. We will all have to keep learning as time goes forward. The pandemic will definitely impact the strategies companies need to deploy to engage with and support their employees in meaningful ways. Companies will need to get creative, whether with new trainings, a switch to virtual presentations, different communications tools, updated guidelines for virtual meetings, managing employees, and onboarding new employees. They need to look for new opportunities to connect with employees—the "water cooler" chat might not exist in the same way. As such, employers need to create space for informal conversations between employees. Businesses also need to rethink how they onboard employees in virtual environments.
Furthermore, there's likely to be an increased emphasis on the benefit programs employers offer. Organizations will be looking at their benefits programs and realizing that wellness and employee assistance programs can be a critical tool for related social and behavioral support, stress, anxiety, resilience, and work-life balance.
Q: What does the future of human capital management look like if Workpartners succeeds in its mission?
A: If our employees are truly our greatest asset, then we cannot treat them like widgets. We need to better understand how and why people act the way they do (the behavioral economics).
To do that, you need data, the ability to gain insight by integrating your traditionally siloed data will give you the insight you need to direct your resources in the most appropriate areas and impact your policies that govern your company.
Using Workpartners' integrated, data-driven approach, employers can see how all these aspects—condition management, absence, wellness programs, and more—are interconnected. This multifaceted view allows businesses to offer the tools and programs they need to engage employees holistically. It allows them to see the different "doors" people enter through.
When companies get a holistic view of all these different aspects of employee health and wellness, they can activate their people. As a result, their employees will enjoy better health and be more productive—and the business will see the positive impact it has on their bottom line.