Individual and Family Services
Individual and Family Offerings
An employee assistance program (EAP) is an invaluable resource for your workforce. Workpartners' EAP connects your employees to an empowering range of services and resources through a nationwide network of providers.
We address the everyday stress and anxiety that families and employees encounter, including physical, emotional, financial, and legal problems. The results:
Improved home and work life
Increased productivity
Lower company costs
Happier, more engaged employees and work teams
For those out on leave, a quicker return to work with less medical costs
Our integrated approach to providing individual and family services includes a comprehensive range of programs, technology, and experiences to create engagement to solve employee's health challenges and goals.
Our programs are supported by our in-house team. From a medical director to experienced organization consultants, from licensed experts in human behavior in the workplace to best practice performance management coaching, we have what your organization needs.
Top 5 EAP Services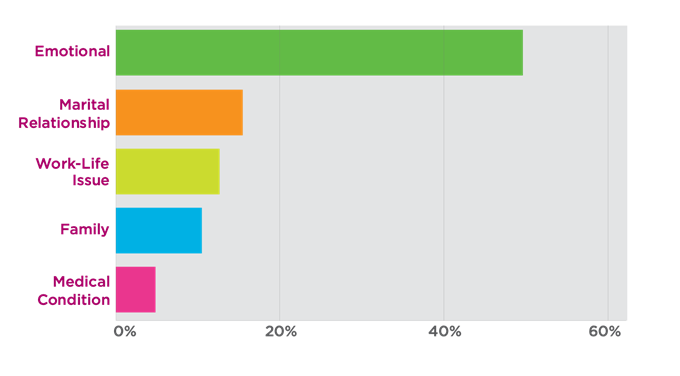 Our individual and family offerings include:
A single online portal with 24/7/365 access to our full suite of EAP tools via lifesolutionsforyou.com.
Up to six coaching and counseling sessions per issue.
Coaching and counseling sessions, in person, by telephone, and by video, to support family, personal, and workplace issues.
Our Employee Engagement Center, which delivers a range of personalized services and communications that help drive engagement and optimal outcomes.
Free 30-minute legal consultations with a local attorney, as well as a 25 percent discount on attorney rates for additional services.
No-cost consultation with a financial planner to discuss topics like debt management, budgeting, and spending habits.
Your employees have questions. We find the answers.
Our Work-Life team helps your employees with referrals for important services that make their everyday lives easier. We also offer private, personal sessions with experts who offer valuable advice on financial and legal matters.
Our Work-Life consultants engage with your employees to identify their specific needs, then conduct research on their behalf to find the best available resources.
They can help with issues including:
Child or elder care
Adoption
Educational resources
Legal concerns
Financial matters
Health and wellness
Daily living needs (like home improvement questions, pet care, etc.)
Our website features monthly webinars that share information on a variety of important topics. Your employees can also access valuable tools like financial and daily living calculators, health tools, skill building exercises, a savings center, and more.
The Work-Life team is available 24/7, and can be contacted by telephone, by email, online, or by instant messaging.