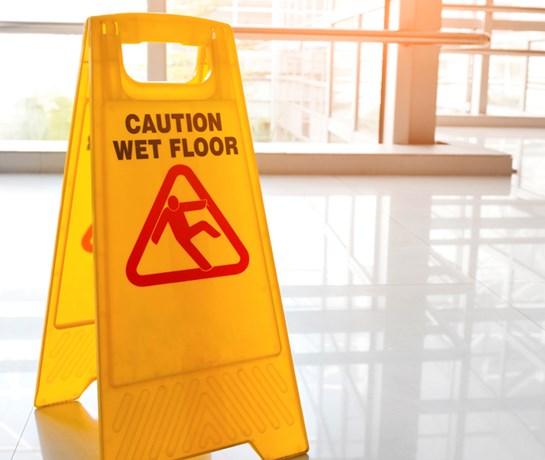 Safety & Risk Control
Are you doing enough to reduce workplace injuries?
You might not know that slips, trips and falls are responsible for 15 percent of all accidental deaths, behind only accidental poisonings/overdoses and motor vehicle accidents. And while the number of people killed in car crashes has decreased dramatically over the last 15 years, fatalities from slips and falls have increased 63 percent in the last decade. Every year there are more than 300,000 workplace injuries due to slips, trips and falls. That's one injury every two minutes. There are simple steps your workplace can take to reduce the risk of your employees suffering a serious accident. These tips aren't just for your maintenance staff—everyone should know them and put them into practice.
Ways to reduce workplace injuries:
Wet Floors Clean up wet areas and spills immediately. Use "Wet Floor" signs when mopping up to warn others, and use caution when walking in areas where wet floors are likely Work Spaces Keep them clean, clear, and well-lit. Make sure rugs lie flat on the floor—wet floors and uneven carpets alone send 1.6 million people to the emergency room every year Cords Don't allow electrical cords or any other wires to extend across any walkway. Tie up any cords that might be a hazard and tape down cords that have to be temporarily placed in any traffic areas Ladders Never stand on a chair, table, or a box to reach something high. Use an appropriate ladder for the job, and be sure to use them properly. Make sure the ladder has a firm foundation, don't lean or overreach, and never step on the top platform of any ladder. Stairs You should "take it one step at a time" literally when it comes to stairs. You're more likely to slip and fall if you're bounding up (or down) two or more steps at a time. Keep a hand free to grasp the handrail, because it's there to stop you if you fall. And if you're carrying something down the stairs, make sure it's a load you can easily manage and that your vision isn't blocked. Prevent yourself or one of your employees from becoming a tragic addition to these troubling statistics. Make reducing workplace injuries a priority of your business today.
Sources: