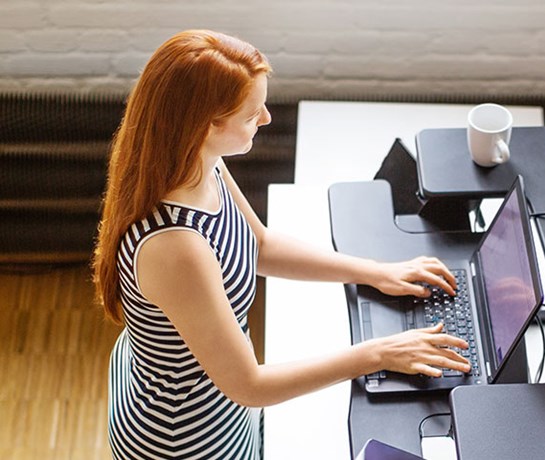 Employee Wellness
Haptic Feedback Producing "Shocking" Behavior Change Results
The use of haptic feedback could reduce workplace injuries among health care workers, according to a study by Workpartners®.
A team of researchers led by Bill Gille, program manager for musculoskeletal health at Workpartners, investigated ways to reduce workplace injuries among health care workers. The team analyzed ergonomic behavior, and in particular, twisting with forward flexion—or, twisting while bending forward. This movement in an occupational setting is associated with high injury risk. The study found that intervention with haptic feedback cut down to a statistically significant degree the number of severe movements health care workers make per hour.
Learning objectives
Half of adults are currently living with a musculoskeletal disorder (MSD).1 Risk factors like repetitive motions, awkward body positions, and poor work habits can lead to developing an MSD. This is especially true for those working in the health care industry—in 2016, 46% of registered nurses reported a bodily reaction to overexertion, compared to 34% for workers across all occupations.2
Most nurses spend their day standing, walking, bending, lifting, and doing other repetitive motions. And nurses know working in this environment carries risk—79% of nurses expect to experience an MSD as "part of the job."3
Looking for ways to reduce these risks and improve outcomes can lead to important cultural changes, like increased productivity, higher retention rates, and improved employee satisfaction. The Workpartners study measured the workload of physicians, nurses, and patients using a system of wearable haptic feedback sensors.
Haptic feedback stimulates the senses of touch and motion. Your phone vibrating when you get a call is a very simple example of haptic feedback, but this study used a far more sophisticated version of haptic feedback to monitor and improve body mechanics. Participants wore haptic sensors clipped to the back of a shirt collar. The sensors used a 3D accelerometer and a 3D gyroscope to determine the wearer's body position.
The sensors were calibrated to obtain the wearer's body position and orientation. If the subject's posture became risky (the person bent forward or to the side too much or twisted their torso too sharply), the haptic device would vibrate to prompt the wearer to return to a better-supported position. The vibration wasn't quite a "shock," but it was strong enough to immediately inform the wearer to change position.
Nursing staffs from the Rehabilitation and Telemetry units at UPMC St. Margaret were chosen because of the types of patients they work with and their MSD incident history. Additionally, UPMC St. Margaret has a safe-patient handling program in place, including a committee that oversees policies, equipment, and training designed to reduce employee injuries.
The study took 17 weeks, split into three phases. In the first three weeks a baseline of behavior and movement was captured with no haptic feedback. Next was a four-week phase with haptic feedback turned on. Then one-week follow-up periods occurred every two weeks with the haptic devices turned off. Participants did not receive any movement data or ergonomic training—the haptic sensors provided the only feedback.
Key findings
The 34 nurses in the study wore the haptic devices for 4,500 hours. More than 430,000 risky moments were recorded; of those, approximately 254,000 were considered severe movements. A total of 26 nurses participated in both the baseline and haptic feedback phases. Their results showed marked improvement in biomechanical behavior.
The number of severe moments per hour improved for forward flexion (8% better), lateral flexion (44% better), twisting (45% better), prolonged posture (50% better), and combined movements (34% better). The lateral flexion, twisting, and combined movement (which includes all four of the other types) results were all found to be statistically significant.
Following the study, the nurses were asked if the haptic feedback made them more aware of their movements—64% said it did. In fact, the results showed a 74% reduction in risky movements. So while many participants perceived a degree of improvement, the actual improvement in their behavior was even greater. That means the haptic feedback improved behavior even if participants didn't always recognize it.
To learn how Workpartners can help improve workplace safety and make your employees more engaged and productive, start a conversation with us.